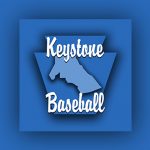 BRISTOL, CT – The Keystone 11-12 All-Stars take their next step in their quest for a Mid-Atlantic title tonight when they face the Maryland State champs at 7 p.m. in another elimination round.
Keystone advanced to Game 8 with a solid 6-1 win over Delaware on Tuesday after a late start following a passing heavy thunderstorm.
Maryland, who hails from Berlin, MD near Ocean City picked up an 18-7 win over District of Columbia on Tuesday to stay in the hunt.
The winner of tonight's game will next face New Jersey on Friday abt 7 p.m. for a berth in the championship final against New York set for Saturday at 7 p.m.
The record-online will offer live audio stream of the game with John Lipez offering up the call to bring you all the action. The stream will go live approximately 15 minutes before the first pitch.
–

–