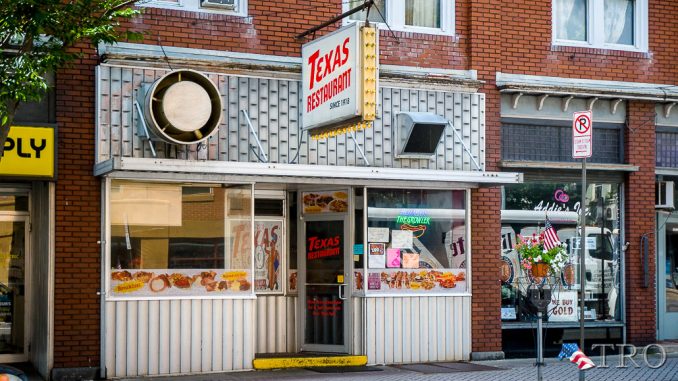 LOCK HAVEN – The Texas Restaurant, a Lock Haven landmark for a century, on Wednesday will mark its 100th birthday with a street party on Grove Street, highlighted by a hotdog eating contest. The activities will begin at 4:30 p.m., culminating in the hotdog with the live video stream to begin at about 5:15 here on therecord-online.
The Texas traces its roots to August of 1918 when Spiros Pappas opened what years ago was known as the Texas Lunch. The Anastos family and its predecessors have been involved in the ownership for many years since, all at the original location, 204 E. Main St. The diner style restaurant has become something of an institution in the community and visitors come from miles away to sample its tasty offerings.
Phil Anastos and his mother Stella are the current owners and they promise a Wednesday afternoon of fun and surprises. Noted for its "Growler" hotdogs, the Texas will offer $1 hotdogs all day. Music, food and prizes will be part of the anniversary celebration. In addition to the hotdog-eating competition, winners will be announced in a variety of quiz categories where customers have been invited to guess the number of hotdogs, eggs and potatoes consumed over the past year; closest amount will win.
Participants have paid a $1 entry fee, all proceeds donated to the Central Mountain High School culinary program.