Moment of Truth to see Who will Represent the Mid-Atlantic Region at LLWS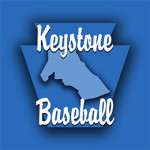 BRISTOL, CT – It all comes down to one final game tonight at 7 p.m. at Breen Field. The winner-take-all opportunity between Keystone and the Maine-Endwell All-Stars to advance to the Little League World Series.
New York made it to the finals by defeating New Jersey 8-6 in the opening round, then edged Delaware 1-0 in the second round followed by a 8-2 win over Washington D.C. in the winner's bracket final.
Keystone opened up Mid-Atlantic Regional play with a 10-7 win over Maryland then fell to Washington D.C. in the second round 7-2.
The 'Boys in Blue' had to regroup and battle back through the elimination bracket by defeating New Jersey 5-1, Delaware 9-5, then redeemed their earlier loss with a 11-3 win over Capitol City Little League to make the finals tonight.
The record-online will offer live audio stream of the game and will also be broadcast on WBPZ AM 1230 with John Lipez offering up the call to bring you all the action. The stream will go live approximately 10 minutes before the first pitch.