The Keystone vs Washington DC game is in lightning delay … We will update as we learn more …Looking to resume play about 9:30 p.m.
Keystone Two Wins Away from 'The Big Dance'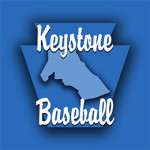 BRISTOL, CT – After falling 7-2 to Capitol City Little League back on Aug. 8, Keystone has made a slow and steady climb back through the elimination bracket with wins over New Jersey (5-1) and Delaware (9-5) and now has the chance to redeem that second round loss as they take on the District of Columbia at 7 p.m. this evening in the Mid-Atlantic Regional.
D.C. fell 8-2 to New York in the winner's bracket final on Wednesday, Aug. 10. The winner of tonight's game will next face New York tomorrow night at 7 p.m. for a winner-take-all game that will advance the victor to represent the Mid-Atlantic Region in the 2016 Little League World Series.
The record-online will offer live audio stream of the game and will also be broadcast on WBPZ AM 1230 with John Lipez offering up the call to bring you all the action. The stream will go live approximately 10 minutes before the first pitch.