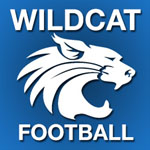 BALD EAGLE TOWNSHIP – It has been a rough road, the start to the Central Mountain football season in 2017, losses in the first three games by an aggregate score of 115-27, the most recent a 48-7 drubbing at Shikellamy last Friday night.
And the road won't get any easier as the middle of the season approaches, this Friday night at 2-1 Bellefonte and home Friday, Sept. 22 with 2-1 Clearfield.
Bellefonte will host the Wildcats this Friday coming off a 42-8 blowout win over Philipsburg-Osceola. The Raiders opened with a 17-13 win at Jersey Shore (2-1), lost a shoot-out to Huntingdon (3-0) by a 52-31 final and rebounded over P-O last Friday.
Veteran Dylan Deitrich has been the go-to guy for coach Shannon Manning's Red Raiders. Deitrich, a senior listed at 5-6, 135 on the Bellefonte roster, has been switched from running back to quarterback following an injury to early season starter Nick Paloskey. All Deitrich has done is run for 326 yards in three games, averaging 13 yards a carry and scoring four touchdowns. He has completed 16-of-29 passes for 233 yards with four touchdowns and three interceptions.
Senior Cade Fortney (5-10, 150) has caught 12 passes for 223 yards and all four Bellefonte passing t-d's. Senior Dexter Gallishaw (5-9, 185) is a hardnosed ball carrier for the Raiders, rushing 41 times for 232 yards, 5.7 yards per clip and scoring two touchdowns.
Central Mountain can only hope this Friday works out better than last Friday. The Wildcats struggled much of the night, trailing 48-0 after three periods and seeing the Braves' defense account for four touchdowns of their own. The Wildcats would finally get on the board in the final period on a 38-yard run from sophomore Rocco Stark. The game was marked by the return of wide receiver Izzy McCann who caught four balls for 50 yards.
Bellefonte likely will have revenge on its mind this Friday as Central Mountain used a late 45 yard run from since-graduated Justin Neff to pull out a 24-21 win a year ago, the first victory in Jim Renninger's first year as the Wildcat head coach. Neff is now redshirting at Penn State as a preferred walk-on in his freshman year.
The record-online will offer live audio stream of the game and will also broadcast audio on WBPZ AM 1230 with John Lipez and Tom Elling offering up the call to bring you all the action. The stream will go live approximately 15 minutes before kickoff.