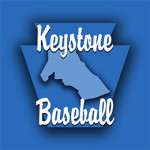 BRISTOL, CT – The Keystone Major All-Stars take the next step today at the Mid-Atlantic Regional as they face the District of Columbia. Keystone will put their 14-1 record on the line today at 10 a.m. to earn a spot in the winner's bracket final slated for Wednesday, Aug. 10 at 1 p.m.
Capitol City Little League is making their 11th appearance at the Mid-Atlantic Regional, though the league has never won the regional. The team from D.C. boasts a 7-0 record this year and received a bye yesterday to await the winner of the Pennsylvania vs. Maryland game.
In the other half of the bracket, Delaware also had a bye as they awaited the victor of the New York vs New Jersey game yesterday with the Empire State prevailing 8-6. Delaware will Play New York at 4 p.m. today.
The record-online will offer live audio stream of the game and will also be broadcast on WBPZ AM 1230 with John Lipez and Tom Elling offering up the call to bring you all the action. The stream will go live approximately 10 minutes before the first pitch.