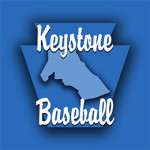 MOUNT UNION – Tonight the Keystone 9-11 All-Stars continue their must-win trek as they meet the winner's bracket in the champions ship final of the Pennsylvania State Little League Championships at 6 p.m.
Keystone must be victorious tonight and return to play Red Land once more tomorrow to become state champs. This will be no easy task as Red Land earned wins over Harbor Creek, 8-1; Valley West, 9-8; and North Allegheny, 8-3.
Keystone fell to North Allegheny in the first round, 13- then battled back with wins over Upper Providence, 12-11; Valley West, 11-9; Lionville 14-5 and redeemed their initial loss to North Allegheny with a 9-7 last night.
The record-online will offer live audio stream of the game a with John Lipez and Tom Elling offering up the call to bring you all the action. The stream will go live approximately 10 minutes before the first pitch.