GAME HAS BEEN POSTPONED UNTIL 5 P.M.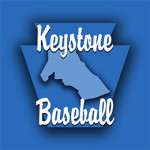 ROSTRAVER TWP. – After redeeming their winner's bracket final 11-9 loss to Warwick, Keystone returned the favor by defeating Warwick 8-5 to force the final showdown today at 1 p.m.
The record-online will offer live audio stream of the game and will also be broadcast on WBPZ AM 1230 with John Lipez and Tom Elling offering up the call to bring you all the action. The stream will go live approximately 10 minutes before the first pitch.