GAME HAS BEEN DELAYED UNTIL 5:15-5:30.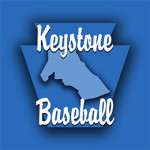 BRADFORD – The Keystone 8-10 All-Stars will next be tested by Ridley in the PA Little League State Championship round.
Keystone advanced to the second round with a 13-0 whitewash of Rostraver Township yesterday in the opening round, while Ridley was a 13-7 winner over Lehigh.
The fist pitch for the game is set for 5 p.m. and you can listen to the play-by-play call from our good friends at WLEM 1250 AM. Click on the link below to visit their site for the online stream: