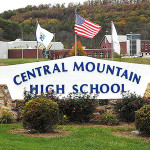 BALD EAGLE TOWNSHIP – We will be bringing you live video coverage of the 17th Annual Commencement ceremony for Central Mountain High School this evening directly from Malinak Stadium.
Central Mountain will celebrate the accomplishments of 315 graduates as they say farewell the Class of 2016.
We will go live and will begin streaming approximately 6:50 p.m. The program in clouds remarks from the president, valedictorian and salutatorian of the Class of 2016, as well as remarks from school administrators. There will also be several musical selections shared by the students as they celebrate their milestone achievement.
Use the player below to take in all the sites and sounds of the Class of 2016.