Weather Concerns Move Graduation Ceremonies Indoors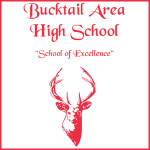 FARWELL – We will be bringing you live video coverage of the 48th Annual Commencement ceremony for Bucktail Area High School this evening.
Bucktail will celebrate the accomplishments and say farewell to 41 members of the Class of 2016.
We will go live and will begin streaming approximately 7:20 p.m. If we experience any technical difficulties, we will upload the complete video later this evening.
Use the player below to take in all the sites and sounds of the Class of 2016.