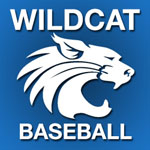 MILL HALL — The second season for the Central Mountain baseball team starts at the friendly confines of Mill Hall Community Park this Thursday at 4 p.m. Altoona will be the District 6 semifinal opponent for the Wildcats and there should be no need for motivation for the home team.
Central Mountain roared through the regular season with a mark of 18-2 and earned the top seed for the district AAAA playoffs. But one of the only two Wildcat losses occurred in late March to this same Mountain Lion team they'll be meeting in Mill Hall.
The rest of the regular season didn't go as well for the Mountain Lions of coach Tom Smith, Altoona finishing with a 9-11 mark and a number four district seed.
Altoona was coming off a southern swing and carried a 0-3 mark to Mill Hall on March 29. But Mountain Lion starter Andrew Gressler shutdown the Wildcats, hurling a 3-hitter on the way to a 3-1 Altoona win. The visitors were able to overcome four errors and still come away a winner. Alex Garbrick was the loser for CM, despite pitching a 5-hitter in his only loss in a 5-1 season record.
Altoona is in something of a slump as it travels to Community Park, the Lions scoreless in their last two regular season games, losing 2-0 to State College and 13-0 to Punxsutawney. And it turns out Gressler's only win was his March victory over the Wildcats; he is 1-1 coming into the postseason.
And something that could be a factor Thursday: Altoona struggles defensively, having committed 54 errors during the season, as opposed to the Wildcats who mishandled only 20 balls.
The other district semifinal was played Wednesday, #3 seed State College (11-9) falling at #2 seed Mifflin County (15-6) by a 6-0 score. Mifflin County's two aces, Pitt-bound Peyton Reesman and West Virginia-bound Isaiah Kearns combined on a 2-hitter. The Huskies put up all six of their runs in the second inning, all coming off State starter Bailey Ishler. State's Gavin Schaefer-Hood finished up for the Little Lions, pitching hitless ball from the second inning on but it was too late for the visitors.
Mifflin County will now await the CM – Altoona winner, the district final set for Blair County Ballpark Wednesday, June 1.
Will will be live streaming audio of the match here at therecord-online.com and on WBPZ AM 1230 radio for all the action with John Lipez and Tom Elling sharing the play-by-play duties. We plan to go live 10 minutes before the match begins, approximately 3:50 p.m.
Use the player below to listen in. If the stream should drop, reload/refresh the page to renew the stream.