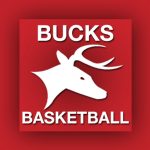 NORTHUMBERLAND – The Bucktail boys' basketball team will be competing in the District 4 Class A playoffs tonight when they travel to visit Northumberland Christian School for a first round game. Tip off is set for 7:30 p.m.
The Bucks (8-14) are the No. 5 seed in the tournament while the Roman Warriors (14-7) are the the No. 4 seed. Back on Jan. 16, Norry came away with a 78-50 win.
The record-online will offer live audio stream of the match with John Lipez offering up the call to bring you all the action. The stream will go live approximately 15 minutes before the game begins.
For fans traveling to the game, the address for Northumberland Christian School is 351 5th Street, Northumberland, PA 17857.