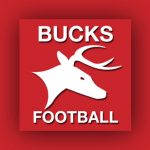 FARWELL – Tonight will be part of the big weekend in western Clinton County. The Flaming Foliage Festival weekend is upon us and Bucktail has its homecoming football game set for 7 p.m. at Dwyer Memorial Field.
Nativity BVM brings a 3-4 mark to the contest, the Wave coming off a big-play, 29-7 win over Midd-West (2-5). The Bucks, now 1-5, went on the road last Friday and Cowanesque Valley ground out a 35-6 victory.
Nativity picked off 5 passes in its win over Midd-West and quarterback Cody Miller provided the offense, tossing 4 touchdowns on an 11-of-20 passing night good for 287 yards.
Bucktail, meanwhile, traveled to Westfield without the services of two-way standout and team captain Paul Risley who suffered a season-ending lower leg injury in practice earlier last week.
The Bucks, through a quirk in the schedule a year ago, played Nativity twice in 2018, losing on the road 34-14 in September, then edged out, 28-20 at home in October.
Buck junior running back Gage Sutliff has picked up 965 rushing yards through the first six games, needing 35 to go over the 1,000 mark.
A large crowd is expected in Farwell. The crowning of the Bucktail Homecoming queen and king will be part of the activities.
The record-online will offer live audio stream of the game with Jon Conklin and Chipp McCann offering up the call to bring you all the action. The stream will go live approximately 15 minutes before kickoff.
*** Please note that the player below will show the previous game broadcast until the new game live stream begins and will automatically update. ***