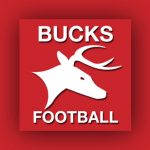 FARWELL – Yes, it's a new look and a new coach with new ideas as the Bucktail Bucks prepare to open the 2019 season in Sayre this Saturday afternoon at 1 p.m.
Jared Hurlbert is the new coach but he's been around the coaching scene for a while, including stints as an assistant coach at Brockway and Wellsboro High Schools and most recently as the 2018 coach for the Bucktail junior high program.
Hurlbert is upbeat but realistic as the Bucks prep for Saturday's trip to the New York state line. A factor for the season will be numbers. As the smallest public school in the state fielding varsity football, Bucktail again has to avoid injury with a roster of 18.
Hurlbert was hired for the Buck varsity job in March. In a Record interview, he addressed the numbers issue: "The challenge at Bucktail is difficult, but rewarding.. The challenge, which is unique at Bucktail, could find a coach trying to convince a student who has never played football, that they might enjoy it. Obviously we don't have the number of all-star players that larger schools have. However, here that encourages us to work harder in the weight room and truly invest in our players lives, rather than just assume they will come into the season ready to go.
This year's preseason included the first week of practice spent together on the Bucktail campus, what Hurlbert called a rewarding experience.
Bucktail traveled last Saturday to Cameron County for a scrimmage and the new coach said, "I think the boys realize they are better than they thought. At the same time, we made a lot of mistakes that prevented us from scoring a lot of touchdowns."
To compete with the Bucks' District 4 schedule, Hurlbert said, "With half the roster of other teams, we will need to play close to mistake free if we want to compete with them."
He has seen things he likes so far: "The kids fly to the ball and tackle well." He looks for Bucktail to be competitive with opponents and, "If we can execute properly we could turn some heads. It's all in our execution."
Team captains this season are senior Liam Dwyer and juniors Gage Sutliff and Paul Risley.
Sayre is a difficult opener. The Redskins downed Bucktail by a 36-0 score a year ago and are led by senior running back Isaiah Firestone who rushed for 1,383 yards and 14 touchdowns last year. Sayre finished last year with a 6-5 mark, Bucktail ended up 2-7.
The record-online will offer live audio stream of the game with Chipp McCann and Jon Conklin offering up the call to bring you all the action. The stream will go live approximately 15 minutes before kickoff.