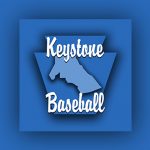 BEECH CREEK – The Keystone Intermediate 50/70 All-Stars will take their first step in their quest for a state championship today when they will face Stroudsburg at 3 p.m. at Blaine Kunes Memorial Park.
The Keystone team is coached by Scott Fravel. The squad is composed of many players from the 2018 Keystone Major state championship team. The team won both district and sectional titles as no one else in Section Three fielded an intermediate all-star team this season. Older players from last year's Major title-winning squad are competing this season as part of the Keystone Junior team still alive in the District 12 tournament.
The Intermediate division is, as its name indicates, played on a field intermediate in size between the standard Little League field and a full size field. Base paths are 70 feet apart, as opposed to 60 feet in Little League Major play and 90 feet in the older divisions.
The record-online will offer live audio stream of the game with John Lipez and Tom Elling offering up the call to bring you all the action. The stream will go live approximately 15 minutes before the first pitch.
–

–