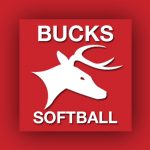 WILLIAMSPORT – The Bucktail Lady Bucks are ready for their next step in their record-breaking season. After a day of postponement the No. 1 seed with a 17-2 mark, Bucktail will participate in the District 4 Class A semifinals at the Elm Park in Williamsport. Game time will be 5 p.m. and the opponent No. 4 seed Galeton (12-8). The Tigers advanced with a Tuesday quarterfinal win by a 4-3 score over Canton.
Bucktail head coach Mike Poorman said Galeton will be a challenge, "They are always a well coached, tough team and play the game hard. I expect a great game from both sides."
Poorman expects his lineup to be close to intact, all starters due back from game one. He said, "We are a little dinged up but most are at this time of the year. To be successful we have to play consistent in all phases, make Galeton earn everything they get."
Poorman said he'll repeat his mantra to his team, "Pitching, defense and timely hitting. I believe if we do those three things as we have been all year we will be successful. The last thing I would say is we need to play to win, be confident in our preparation and have fun!"
Some of the Lady Bucks have post season experience. Bucktail played a semifinal game two seasons ago and several team members have travel ball experience as well.
Today's Bucktail game will be preceded by the other semifinal, a 2 p.m. game between Montgomery (16-3) and Northeast Bradford (14-5). Thursday winners advance to the District 4 title game at Turbotville on Thursday, May 30, a time to be announced. Both semi-final winners will move into the PIAA tournament later on.
Elm Park is located at 1681 W 4th St, Williamsport, PA, just east of Bowman Field and the Original Little League fields complex.
The record-online will offer live audio stream of the game with John Lipez offering up the call to bring you all the action. The stream will go live approximately 15 minutes before the first pitch.

–
–