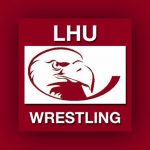 LOCK HAVEN – The No. 23 Lock Haven University wrestling team is set to host Eastern Wrestling League (EWL) rival Edinboro University tonight.
Tonight's match with perennial EWL contender Edinboro is set for 7 p.m. in LHU's Thomas Fieldhouse. Prior to the match, local powers State College and Bellefonte will meet in junior and senior high action.
The Thursday-night clash with the Fighting Scots will mark the first of three matches over a four-day span. On Saturday (Feb. 3), Lock Haven hosts EWL foe Cleveland State at 2 p.m. The Bald Eagles will round out a busy week at home with No. 10 Cornell on Sunday (Feb. 4) at 1 p.m. Sunday's match is Senior Day.
LHU enters Thursday's action with a 10-2 overall record … The 10 wins are the most since LHU won 12 duals during the 2002-03 season.
The Bald Eagles are 2-1 in EWL action.
Lock Haven was ranked No. 23 in this week's (Tues, Jan. 30) USA Today/NWCA coaches poll.
On Tuesday (Jan. 30), the Bald Eagles debuted in the InterMat Tournament Rankings for the first time this season (No. 21) … LHU was ranked No. 20 in the InterMat Dual Meet rankings.
The trio of Ronnie Perry, Chance Marsteller and Thomas Haines remained ranked by InterMatt … Perry (149) No. 16, Marsteller (165) No. 4, & Haines (285) No. 13.
Marsteller made the biggest jump in the rankings after last weekend's win over Rider's Chad Walsh … On Monday (Jan. 29), Marsteller was named the PSAC and EWL Athlete of the Week.
Countdown to 100: Ronnie Perry, LHU's only senior, sits on 94 career wins entering the weekend. He will look to become just the 20th wrestler in school history to reach the 100 career win mark. Single-season win list: With 32 wins on the season, Chance Marsteller needs just two more to crack the single-season top-10 for wins. The single-season wins' record is 43 (Brad Lloyd (1988-89)).
Tech Fall School Record: Ronnie Perry has 29 career tech falls which serves as the current career school record. Kyle Shoop, just a sophomore has 21 career tech falls. Perry broke Brad Lloyd's ('84-89) career tech fall record of 28 with a tech fall at the Virginia Duals.
Bald Eagle stat leaders:
WINS: Chance Marsteller, 32
DUAL WINS: Ronnie Perry & Marsteller, 12 MAJORS: Perry, 8
TECH FALLS: Kyle Shoop, 11
PINS: Marsteller, 7
Bald Eagles projected weekend lineup:
125: Fr. Luke Werner (Bethlehem, Pa./Liberty) 20-10
133: R-So. DJ Fehlman (Warren, Pa./Warren) 20-12
141: #24 R-So. Kyle Shoop (Boiling Springs, Pa./Boiling Springs) 26-9
149: #16 R-Sr. Ronnie Perry (Christiana, Pa./Solanco) 22-3
157: R-So. Alex Klucker (Summerdale, Pa./East Pennsboro) 16-8
165: #8 R-Jr. Chance Marsteller (New Park, Pa./Kennard-Dale (Oklahoma State) 32-1 174: So. Jared Siegrist (Manheim, Pa./Manheim Central) 23-14
184: #31 R-So. Corey Hazel (Spring Mills, Pa./Penns Valley) 19-7
197: R-Fr. Trey Hartsock (Lewistown, Pa./Mifflin County) 13-14
285: #13 R-Jr. Thomas Haines (Quarryville, Pa./Solanco (Ohio State) 13-4
– Jr. Derek Dragon (Harvey's Lake, Pa./Lake Lehman) 4-10
Edinboro (5-3, 3-1 EWL)
Thursday, Feb. 1, 7 p.m.
*LHU leads the all-time series 27-24 … Edinboro won last year 28-9 … EU has won 15 straight dating back to 2001-02 season
Projected lineup
125: #10 R-Jr. Sean Russell (Lawrenceville, Ga./Collins Hills) 22-4
133: #18 R-So. Korbin Myers (Carlisle, Pa./Boiling Springs) 20-8
141: Jr. Nate Hagan (Toledo, Ohio/Toledo Central Catholic) 10-13
149: R-Jr. Jensen Lorea (Charleston, WVa./George Washington) 4-7
– 149: R-Fr. Matthew Eowler (Old Saybrook, Conn./St. Bernard) 7-6
157: #29 R-So. Andrew Shomers (Ransonville, N.Y./Lewiston-Porter) 22-5
165: R-So. Fritz Hoehn (North Andover, Ma./North Andover) 12-9
174: #20 R-Sr. Ty Schoffstall (Pottsville, Pa/Tri-Valley) 11-1
184: Fr. Zach Ancewicz (Greenlawn, N.Y./John Glenn) 9-11
197: R-So. Dylan Reynolds (Cambridge Springs, Pa./Saegertown) 7-8
285: #18 R-Jr. Billy Miller (Perry, Ohio/Perry) 11-3
The record-online will offer live video stream of the match with John Lipez and Tom Elling offering up the call to bring you all the action. The stream will go live approximately 15 minutes before the start.