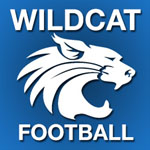 BALD EAGLE TOWNSHIP – The Wildcats (2-7) will will to Thompson Street Stadium to take on backyard rival, Jersey Shore to close out their 2015 season.
The Bulldogs (7-2) will look to end their regular season with another win over their upriver rivals. Poised to enter the District 4 playoffs, Shore will be ready for whatever the Wildcats throw at them.
Central Mountain will, no doubt, leave everything on the field and work hard to play spoiler to add another loss the 'Dawgs 2015 record and build on the future.
In joint broadcast WBPZ 1230 AM andtherecord-online.com will offer a live play-by-play broadcast with streaming here and at www.wsqvradio.com.
Use the player below to listen to all the play-by-play action called by John Lipez and Tom Elling. The player below with show "Off Air" until the broadcast begins.
If you experience any issues or the stream is dropped, try reloading/refreshing the page. This may help re-establish a dropped link.
Broadcast is scheduled for 6:50 p.m.

–