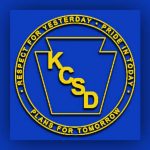 MILL HALL – The Keystone Central School District on Wednesday of this week is holding its third of three finalist interviews for the position of school district superintendent. The third finalist is Dr. John R. Mastillo, most recently the superintendent of the Blacklick Valley School District in Nanty Glo.
Mastillo holds an undergraduate degree in elementary education from the University of Pittsburgh–Johnstown and a master of education and doctorate of education from Stephen F. Austin State University in Texas.
He served as Blacklick Valley superintendent from 2010 to June of last year. He served in a number of capacities at two Texas school districts from 1994 through 2010 and previously served as head wrestling coach and substitute teacher in the Greater Johnstown School District from 1990 to 1994.
Per the previously announced superintendent search schedule, Mastillo is to spend this Wednesday visiting the Keystone Central School District, his day ending with a 7 p.m. public interview in the Central Mountain Middle School auditorium.
Keystone board president Charlie Rosamilia said the district may be in a position to announce it's choice as early as the regularly scheduled April 5 board meeting.
–
–