Rutgers Next Opponent for Bald Eagle Wrestling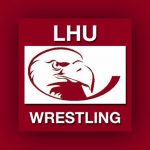 LOCK HAVEN – The LHU Bald Eagles are coming off a big 40-6 win over George Mason yesterday and will host Brown University today for a key non-conference dual meet at 1 p.m. Lock Haven (8-1, 2-0 PSAC) has wins over Rutgers (22-16), Wheeling Jesuit (32-11), Messiah (34-6), Bloomsburg (32-1), Fresno State (25-13), Bucknell (31-9), Tennessee at Chattanooga (22-18) and George Mason (40-6). Their lone loss came at the hands of Oklahoma (15-21) last weekend at the Virginia Duals.
In their first road duals of the year, the Bears (2-3, 2-1 EIWA) came back from early deficits to sweep past the host Franklin & Marshall (1-8, 0-5 EIWA), 33-12, Bucknell (2-9, 1-3 EIWA), 18-13. Brown totaled six bonus point victories on the day.
Therecordonline.com will be presenting a live video stream of the dual meet tonight with Tom Elling bringing you the call. The stream will begin at 1 p.m.