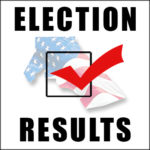 LOCK HAVEN — Today is a chilly day for voting in Pennsylvania's municipal election. Polls in Clinton County and across the state opened at 7 a.m. and will remain open until 8 p.m. Therecord-online will be at the county's Garden Building starting at 8 p.m. with complete coverage until the local races are completed. 22,193 county residents are registered to vote but if the May turnout was any indication (just over 20 percent), the vote in this "off-year" election could be light.
Republicans will have their largest registration edge in recent years. Final numbers from the county's new voter registrar Leah Mothersbaugh show 10,289 Republicans and 8,947 Democrats. Also eligible will be 2,804 "other" registrants who could not vote in the primary, along with 119 Libertarians and 34 Green Party candidates.
Several contested races will highlight the vote, including one countywide race: incumbent Republican Treasurer Michelle Kunes is being challenged by Democrat Michelle Crowell, one of three county auditors.
The Lock Haven area district judge race features a former city police officer against the present city police chief. The former officer is Democrat Joseph Sanders III, seeking a fourth term as Region I district magistrate; he is being challenged by Lock Haven police chief Keith Kibler, a Republican. Both had cross-filed in the spring and each took his respective party's nomination, forcing next week's runoff.
The school board seat in Region IX has attracted considerable interest in western Clinton County. The incumbent is Democrat James "Butch" Knauff, currently the Keystone Central school board president; he is being challenged by Republican Eric Probert. Both cross-filed in the spring and both won their respective party nominations.
Another contested school board race is in Region II. Incumbent Tom Shafer did not seek re-election. Running to replace him are Democrat Jennifer Bottorf and Republican Greg Mayes.
Clinton County President Judge Craig Miller will also be on the ballot, a referendum question as to whether voters will approve another 10-year term for him.
The stream will go live after the polls close at 8 p.m. as the returns start filtering from across the county.
[table "106" not found /]