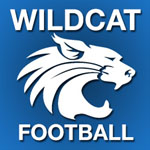 BALD EAGLE TOWNSHIP—The early season schedule has proved to be a daunting one for the rebuilding Central Mountain football team and tonight won't be any easier.
So far the 0-and-3 Wildcats have run into Williamsport (3-0), Hughesville (2-1) and most recently Shikellamy (2-1), the Braves leaving Malinak Stadium last Friday night with a convincing 35-7 win.
And wouldn't you know it, the Bellefonte team which comes back on the Central Mountain schedule this season is off to its best start in a while at 2-1 after last Friday's 45-7 thrashing of winless Philipsburg-Osceola. The Red Raiders return to the Wildcat regular season schedule after the two neighboring schools had met only on a preseason scrimmage basis in recent years (but it is a rivalry that goes back a century when Bellefonte and Lock Haven High School would travel by train to meet one-another on the gridiron).
Bellefonte has been rebuilding its program under fourth-year head coach Shannon Manning, a former standout player at Penns Valley and Indiana University of Pennsylvania. The first three years Bellefonte's only wins came over smaller fellow Centre County schools in Philipsburg-Osceola, Bald Eagle Area and Penns Valley. But the Red Raiders broke that streak with an out-of-the-county 21-20 road win at Huntingdon on week two; they followed that with last week's romp over P-O. The lone loss came in the season opener when Jersey Shore (2-1) led early, fell behind, and then pulled out a 33-28 victory over the Raiders.
Tonight the Raiders will be going for their first 3-game winning streak since 2010. The two teams last met in 2013, Central Mountain winning 41-6. Wildcat victories have been hard to come by since that time, Central Mountain currently saddled with a 10-game losing streak.
Four-year standout wrestler Chase Gardner (5-11, 160) is quarterbacking Bellefonte in this his senior year. He has passed sparingly and spread the ball around to his running backs. They have responded with some long touchdown plays. Senior Tyler Kreger (5-8, 170) opened the P-O game scoring with a first quarter 74-yard touchdown run; he later caught a Gardner pass for a 37-yard score. Kreger would finish the night with 90 yards on just three carries.
Junior Dexter Gallishaw (5-9, 181) had a 59-yard touchdown run, part of a 76 yard performance on but five carries. Freshman C.J. Funk (5-11, 170) helped out with 46 yards on nine rushes. Gardner finished with a 2-for-5 passing night for 72 yards and one touchdown and had two passes intercepted, one of which was returned 74 yards for a touchdown.
Bellefonte also picked off six Mounties' passes, two of which were brought back for touchdowns on runs of 12 and 41 yards. The Raiders also got a 75-yard TD punt return from senior Jaden Boone (5-8, 138).
While Bellefonte was running away from Philipsburg-Osceola, Central Mountain was running into a solid Shikellamy team. The Braves clearly had gotten the early season word: keep the ball away from Justin Neff, pressure Justin Neff and you shut down the Central Mountain football team.
That was the case as the Braves concentrated on stopping Neff, the Wildcats' do-everything quarterback/slot back/defensive back/kickoff returner. And it worked, holding the Wildcat senior to under 100 yards rushing and not allowing him to handle a kickoff. The result was the 35-7 win for the visiting Braves. Neff so far this year has rushed for 321 yards and has scored five of the Wildcats' six touchdowns.
Tonight's 7 p.m. kickoff at Malinak Stadium will be Conquer Cancer Night, the Senior Project for Aimee Hunsinger.
The record-online will offer live audio/video stream of the game and will also broadcast audio on WBPZ AM 1230 with John Lipez and Joe Walker offering up the call to bring you all the action. The stream will go live approximately 15 minutes before the 7 p.m. kickoff.