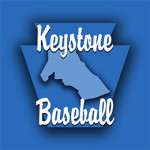 BRISTOL, CT – The Keystone Major All-Stars take on Delaware tonight at 7 p.m. as they continue to battle back in the elimination bracket of the Mid-Atlantic Regional tournament to earn a berth in the Little League World Series.
Delaware received a bye in the first Round, then fell to New York 1-0 on Aug. 8. The the Milton, DE team bounced back with a 5-2 win over Maryland on Tuesday. Keystone beat Maryland 10-7 on Monday and is the only common opponent with Delaware.
Keystone was a 5-1 winner to make it to tonight's game where the winner will advance to meet the District of Columbia on Friday, Aug. 12 at 7 p.m. Washington D.C. fell to New York 8-2 on Wednesday.
The record-online will offer live audio stream of the game and will also be broadcast on WBPZ AM 1230 with John Lipez offering up the call to bring you all the action. The stream will go live approximately 10 minutes before the first pitch.