Alumni Night with Special Promotions Scheduled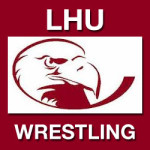 LOCK HAVEN – LHU enters Thursday's dual with a 7-8 record. The Bald Eagles are 2-2 in EWL action.
Edinboro is 7-6 overall and a perfect 5-0 in EWL action. The Fighting Scots last competed on January 23 and they picked up a hard-fought 18-15 win over Rider.
Following Thursday's dual, LHU will compete on Saturday (February 6) at the Edinboro Open.
News, notes & storylines:
Thursday marks Alumni Night, a Super Bowl Package Giveaway (LHU students only) and Sports Administration Major Night (more below).
On Friday at Clarion, 133-pounder Bobby Rehm won his 100th match.
Rehm is the 18th LHU wrestler to win 100 or more matches.
Since returning to 149 pounds on December 17, Dan Neff has gone 13-0. Neff was an All-American last season at 149.
On Saturday, Jan. 16 at Rider, Neff won his 100th match at LHU.
Neff is ranked No. 24 this week by WrestlingReport.com, moving up one spot from last week. Rehm remains at No. 33 in the WrestlingReport.com rankings.
Neff was ranked 22nd in the first of four NCAA coaches' panel rankings, released two weeks ago.
Last season (February 6, 2015), Edinboro beat Lock Haven 21-14. LHU is 27-22 all-time vs. Edinboro, but looking to snap a 13-match losing skid. The Bald Eagles last win over the Fighting Scots came in 2002.
Lock Haven's probable lineup:
125: R-So. Jake Field (South Elgin, Ill./Marmion Academy) 13-13 – OR – R-Jr. David Sheesley (Mifflinburg, Pa./Mifflinburg) 10-9
133: R-Sr. Bobby Rehm (Lancaster, Pa./Penn Manor) 21-8
141: R-Sr. Cody Wheeler (Towanda, Pa./Towanda) 4-7
– OR – So. Joe Ghione (Brick, N.J./Brick Memorial) 15-11
149: R-Sr. Dan Neff (Quarryville, Pa./Solanco) 20-8
157: R-Sr. Aaron McKinney (McDonald, Pa./West Allegheny) 23-12
165: Fr. Cody Cordes (Edwardsville, Pa./Wyoming Valley West) 16-16
174: R-Jr. Tyler Wood (West Chester, Pa./West Chester-Rustin) 15-14
184: R-Fr. Tristan Sponseller (East Berlin, Pa./Bermudian Springs) 20-11
197: R-Sr. Phil Sprenkle (Seven Valleys, Pa./Dallastown) 12-6
285: Jr. Adam Mackie (Bechtelsville, Pa./Brandywine Heights) 10-9
Edinboro's probable lineup:
125: R-Fr. Sean Russell (Lawrenceville, Ga./ Collins Hills) 21-5
133: R-Jr. Anthony Rivera (Mardela Springs, Md./ Parkside) 6-9
141: Fr. Tyler Vath (Saegertown, Pa./ Saegertown) 7-11
149: Fr. Patricio Lugo (Homestead, Fla./ South Dade) 24-3
157: R-So. Austin Matthews (Greenville, Pa./ Reynolds) 1-1
165: R-Sr. Casey Fuller (Hamlin, Pa./ Western Wayne) 21-5
174: R-Sr. Patrick Jennings (Ridge, N.Y./ Longwood) 19-11
184: R-Sr. Vic Avery (Foxboro, Mass./ Foxboro) 2-0
197: Sr. Vince Pickett (Galloway, Ohio/ Central Crossing) 17-11
285: R-Fr. Billy Miller (Perry, Ohio/ Perry) 22-6
Will will be live streaming audio/video of the match here at therecord-online.com with John Lipez and Tom Elling sharing the play-by-play duties. We plan to go live at 10 minutes before the match begins, approximately 6:50 p.m.
Use the player below to listen live. If you experience any issues or the stream is dropped, try reloading/refreshing the page. This may help re-establish a dropped link.


Thursday night promotions:
Alumni Night – We look forward to honoring a number of former LHU wrestlers in attendance. Sports Administration Major Night – We can't wait to have a number of LHU students majoring in Sports Administration in Thomas Fieldhouse on Thursday night.
LHU Student Super Bowl Package Giveaway – LHU students with student ID will get a raffle ticket for a chance to win LHU wrestling gear or the grand prize Super Bowl Package of food, drinks & more!
Rehm named EWL Athlete of the Week:
On Monday (February 1), Bobby Rehm (R-Sr., 133) was named this week's EWL Athlete of the Week. Rehm went 2-0 last week and collected his 100th career win on Friday at Clarion. Rehm became the 18th wrestler to join LHU's 100-win club. His 100th win came in dominating fashion, as he picked up a first-period tech fall, 18-0 (2:42; vs. Roshaun Cooley). The bonus points helped Lock Have down EWL rival Clarion. Rehm capped a 2-0 week for the Bald Eagles on Sunday, picking up a 4-2 win in the dual with Cleveland State (vs. Evan Cheek). Rehm, who is nationally-ranked, is 21-8 on the season and now has 101 career wins.
NCAA releases wrestling coaches' panel rankings:
On Thursday, January 21, the NCAA released the first of four NCAA wrestling coaches' panel rankings for the 2015-16 season. The final rankings will be used as part of the selection process for NCAA Championships qualifiers. Dan Neff was ranked No. 22 at 149 in the initial listing.
Makeup date/time announced for George Mason match:
A makeup date and time for the EWL match at George Mason has been announced. LHU will now travel south for the conference dual on Thursday, February 18 at 5:30 p.m.
Up next:
Following Saturday's (February 6) action at the Edinboro Open, the Bald Eagles will return home to host Michigan State on Friday, February 12 at 7 p.m. on Senior Night.